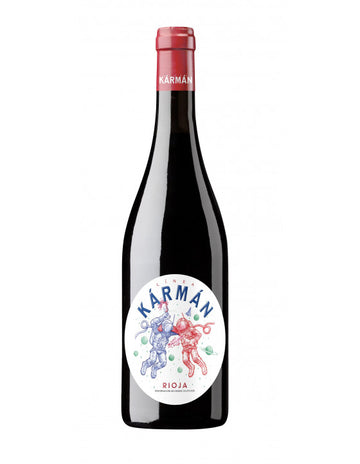 Kárman Red
Kármán's red is accessible, long-drinking and packed with fruit. Garnacha and a bit of Tempranillo, from different plots in the Cárdenas River valley, a cold area with deep, red-colored ferrous-clay soil, at the foot of the Sierra de la Demanda. Elaboration in stainless steel with autochthonous yeasts, grapes destemmed and without crushing, in a regime of pumping over and short macerations. Aging is four months on lees in stainless steel.

Kármán is the name given to the boundary line between the atmosphere and outer space, a concept far removed from the world of wine, but with a certain meaning if we refer to this new line from the Gómez Cruzado winery. Stratospheric wines in terms of freshness and simplicity.
Tasting note:
Intense cherry red color with violet rims, typical of a young wine of its characteristics. Fresh fruit, wild blackberries and balsamic and licorice notes. The attack is fresh and very pleasant, a kind and subtle mid palate with an unexpected finish of licorice.
Kármán Wines Winery, La Rioja
Karman Wines was born in the Cárdenas River valley in Alto Najerilla, Rioja Alta, in a winery located in Badarán and rented by Gómez Cruzado in 2019. The objective is to produce high-quality young wines taking advantage of the freshness of the Garnachas from the area, ideal for the production of this type of wine. The winery has a production capacity of 150,000 kg, with modern and functional facilities.
Karman is an opportunity to explore a new horizon with a differentiated philosophy of Gómez Cruzado. It is a concept far from the usual terms that surround the world of wine, easier to understand and based on the enjoyment of young wine made in a simple way, with good raw materials. An accessible wine, long drink and full of fruit.